Whether a performer or audience, experienced or just starting, please keep in mind only a few things that add up to a nice etiquette and a better experience. For all of us.
Be respectful. Every event has its own atmosphere: some can be a bit noisy and wild, others are more intimate listening rooms. Adapt to that. However, even at louder events it is not wise to sit or stand in the front and turn your back very visibly toward the stage while talking loudly. Just imagine if you were performing and somebody turned their back towards you. Or your friend you're trying to support. If you have something to talk over with someone, move to the back of the room, or go outside.
Show up early if you want to perform. Even if you have sent an email or a message and you think you're signed up in advance, the host can only be sure that you'll make it when she/he sees you. Remember, there's no contract signed, so if something comes up and you're not there, there's not much the host can do, except lose trust in you for the future. The only way a host can count on you actually playing is when you're physically present.
Show your face and wait patiently until it's your turn. Watching others perform can never hurt, so if you've made the effort to sign up you might as well reach for some inspiration from others too. Hosts don't like looking for you when it's your turn, since some venues can be quite big, so when your name is called you better be near and ready to hit the stage, which also means that your instrument should be tuned, if applicable. Hosts also don't like the play & dash, or wham-bam-thank-you-ma'am approach, unless you have a very good reason to leave right after you've performed. Stick around, have a chat, have a drink. It can work wonders.
These were some quick thoughts. As we also wish not to reinvent the wheel, here's a collection of other articles you might find valuable as to why open mic events are useful and how to make the most of them: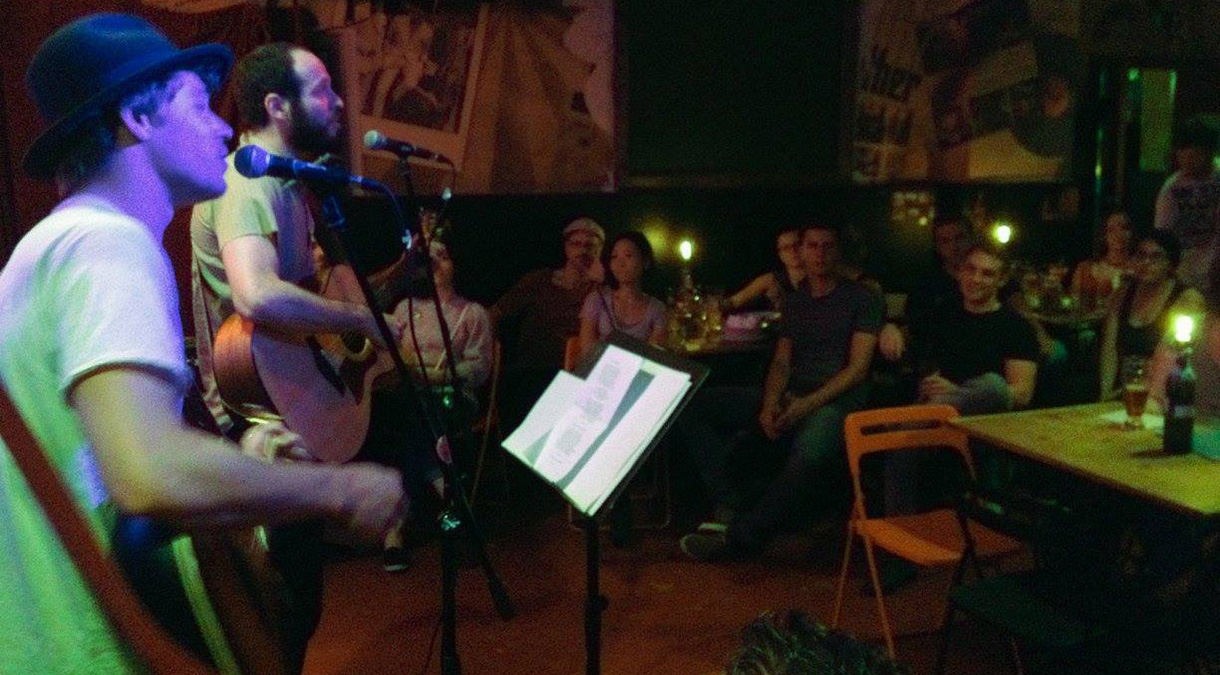 A memorable open mic event: Makka and Nicky Lipps — with Nick Kerkhoff and Max Kaufman, June, 2016, at Jelen Bisztró (photo by Tito Slack)